Unlock the one social network that everybody has all wrong! Google+ is still a powerhouse for savvy users who know its secrets.
Google+ it's a social network which many people seem to have forgotten, yet still it has some very strong and united communities. I decided that I wanted to learn more, and also teach others about how to get more traffic from Google+.
I looked at my Google+ home page and I identified the most active bloggers from my circles and asked them one crucial question:
"What is your best strategy of getting targeted traffic to your blog from Google+?"
Let's see what they answered.
Todd Worley
ToddWorley.com (on Google+)
Todd is The Disabled Blogger. He is a blogging coach that teaches people how to build, brand and manage their business online.
When it comes to getting targeted traffic to my blog from Google+ there are ten really great strategies that I love to use.
1. Connecting and Engaging- Just like with any social media platform, making connections and engaging with people is vital to any social media marketing strategy. The way that I do this is by checking the activity on the content that I shared.
Whenever someone shares or +1 my content, I will follow that person. Since they have liked my content already, they are usually more willing to follow me back. I also go and connect with influencers and make sure that I am sharing their content as well as other's content.
2. Join Communities in Your Niche This is where making connections with your target traffic starts. Share your content with that community and then go Share, Comment, and +1, other people's content in that community.
Unlike Facebook groups, Communities in your niche are a lot easier to find and join on Google+
Click To Tweet
Also, become followers of people in communities as they will most likely follow you back. This is all a great way to increase target traffic to your blog.
3. Use Hashtags: Hashtags are a great way to extend the life of your content on social media. Google+ is no exception. Use hashtags on words that are specific to your niche as this will increase targeted traffic to that post and ultimately your blog altogether.
4. Use Different Forms of Content: Everyone knows that there is a blog post out there that they can read. What people tend to like even more than reading is different forms of content altogether. Break out of the norm and add Videos, Podcast, Topical Series, Polls, and Research Experiments.
Whatever you can think of to make your blog stand out a little more, do it! These are all great ideas to really set yourself apart from your competition and start drawing in eyes on your blog.
5. Don't Just Share a Link: One thing that I notice a lot of people doing is just sharing a link. They don't include any information about the link to really entice people to click on the post. Sometimes headlines aren't enough.
Entice people with questions, or let them know more about the post beyond the Meta-Description. It is okay to hype up your post and really sell it. The more you can entice people the more traffic you are going to get to that post and your blog. Don't forget the hashtags!
6. Timing Could Be Everything: Internet marketers and social media researchers have studied and concluded that there are certain times in the day where your post could possibly be viewed by more people. Let's take my country, the United States, for instance. It is said that the best time to post on Google+ is between the hours of 9am-11am.
If I look at the statistics of my country and what time zone has the densest population, I can see that 50% of the United States population is in the Eastern states. If I wanted to I can include the Central times zone which will make up 80% of the population of the United States. (Statistics provided by Kissmetrics).
So I would want to share my post on Google+ around 10am-10:30am Eastern Standard Time for my post to get the most exposer. This is just one example of how you can use time to really hone in on your target audience. To make sure that your post gets out at the right time use a social media post scheduler like Buffer or Hootsuite.
7. No Shame In Asking: Another strategy to increase engagement on Google+ is to flat out ask for people to Share and +1 your post. Hey, no shame in marketing. The great thing is people will usually Share and +1 your post if you ask. Especially if you go and Share their post and ask for the favor back!
8. Completely Fill Out Your Profile: One thing that you should do is make sure you have provided as much information in your social media profile as you can. This is a great strategy not only for Google+ but for all social media platforms. The main reason for this is because some people like to do business locally.
By filling out your whole profile with your addresses, website, work, everything that you can, you can get found a whole lot easier by local people who may prefer to deal with someone in person rather than by email, phone or on Skype. Another reason is because if someone is checking out your profile your website is right there ready for someone to click on it.
9. Share who you are: Don't hide your personality or opinions. Share them with your followers and with communities. Share Meme's, quotes, anecdotes, News articles, hot topics, and give your option or thoughts on those subject matters. This allows people to get to know you on a much more personal level which is great for establishing trust with your target audience.
10. Google Hangouts: This is a great tool created by Google. We all know the power that webinars can have with your audience. The only problem with webinars is that they can be expensive and glitchy at times.
With Google Hangouts, you get a nice clean live broadcast feed that also streams to your YouTube channel as well for recording. Then you can use your Hangout session as another piece of content to market. This is also a great way to reach out and connect on Google+ as well.
Hop in on a live broadcast on a topic in your niche. If given the chance take a seat on video and talk with other people's audiences. This will help to really build your authority and trust with your target audience. Plus, a lot of bloggers will put these Live Broadcasts on their website.
These are 10 great strategies that can really help you get the attention of your target audience and get them over to your blog.
Martin Shervington
MartinShervington.com (on Google+)
Martin is the founder of PlusYourBusiness.com, the place that helps you build your brand, get reviews, and increase conversions.
When you build a community around your content using Social Media, you will generate highly targeted traffic. Simple.
But you need to serve up your best content to build trust; from there people will 'know you' i.e. you get a great reputation;
Over time you will become an authority – this is when your content surfaces in Google Search.
Click To Tweet
When you get Search, you'll have even more quality people visiting your site who are looking for someone like you. Google+ is a great place to build that community.
Evan Carmichael
EvanCarmichael.com (on Google+)
Evan's goal is to help other entrepreneurs stay motivated and give specific strategies that can help you build a successful business.
Treat Google+ like any other social platform. To get results from it, you need to be active on it. Post regularly. Engage with your audience. Comment on other people's posts.
Add people to circles. Create targeted events to showcase your live material.
Integrate your YouTube channel and Google Hangout events.
Click To Tweet
Be active. If you just post a link to your blog and think it's going to generate traffic for you, you're wasting your time.
Fabrizio Van Marciano
Magnet4Blogging.net (on Google+)
Fabrizio is a blogger and digital marketer, that has over 5 years of experience as an active blogger, and over 10 years of experience as an entrepreneur and online business owner.
Currently, I'm in around a dozen active niche focused groups, where I can share links to my latest blog articles, participate in conversations and debates, and generally interact with other group members.
The best strategy for driving traffic to my blog from Google+ for me is simply utilising targeted groups.
Click To Tweet
In addition to using those niche focused groups, when I'm promoting a blog article on Google+, I make every effort to make my link share stand out.
I see many folks just posting links and leaving it as that, that's not a bad thing, but it's not the most effective way to promote links to your latest blog articles on Google+.
I've found that I get more clicks and more conversions and engagement when I add a little bit of unique value or content to a link that I'm sharing, along with a stand out featured image.
The content that I add to a Google+ post is just something to highlight some of the elements in my blog post, and to let folks know what the article is about, and what they can take away from reading it.
Usually 15 or so lines is enough, together with 3 or 4 appropriate hashtags.
Hernan Vazquez
HernanVazquez.com (on Google+)
Hernan is an entrepreneur and digital marketer that helps business owners, professionals, freelancers and entrepreneurs to get more leads and sell more stuff using the power of the Internet.
Google+ is a great platform since you can drive a ton of targeted traffic by following some simple steps. What I like to do, first and foremost, is to optimize my Google+ profile, telling people exactly what I do, how I can help and add other links to my social profiles (YouTube, Facebook, Twitter, etc.).
Your bio description is also a great piece of real estate where you can add links, hashtags and more to make your profile event more enticing and relevant.
Then you want to use Google properties. For example, I've been using YouTube, Google Live Events, and Google+ heavily to spread ideas, value and messages.
As you know already, Google loves its own properties. So if you start live streaming videos on YouTube or doing Live Hangouts, you'll get a ton of exposure within Google+ itself (because everything gets shared at the end of the day).
Plus, as you add people to your circles and they add you back, your results will actually show on Google first page! (as long as your contact is logged into his or her Google Account). This is super powerful! You'll give the impression of being everywhere!
Last but not least, you can join relevant communities. There is a ton of communities you can use to share your message.
You need to be careful, though, you want to approach G+ communities from a value standpoint.
Click To Tweet
I've had great results with sharing valuable videos because people actually engage and promote them! But you also want to comment on other people's posts, answer ideas, etc. Become a relevant member by putting your audience's problems first.
Andrea Beltrami
TheBrandedSolopreneur.com (on Google+)
Andrea helps newbies, solopreneurs, and small business entrepreneurs at her blog, where she delivers content focused on strategies, tips, resources and tools for branding, design and visual marketing mastery.
Creating a notification circle has been one of the best ways I've created a regular, loyal, super interested, flow of traffic from Google+ to my content.
The day before I release a new blog post or mini course I create a teaser post on G+ .
Click To Tweet
I ask anyone that's interested in getting notified when the content goes live to 'interact with the post' (i.e. +1, comment, or share) and then I add all of those people to my notification circle.
The next day when the content is published, I create a G+ post, select only my notification circle, click the button to 'send an email' and publish that thread.
It's worked so well that I'm already on my 2nd notification circle (G+ only allows 500 people to be emailed a day), so I repeat the same process the next day only I select my 2nd notification circle.
Make sure you put a disclaimer in your posts that tells readers that they'll be added to a notification circle if they interact with the post and that if they'd like to be removed to just leave a comment and let you know.
This isn't about suckering people into getting your G+ emails; it's about creating a posse of perfect reader's that genuinely loves to read your awesome sauce.
Minuca Elena
MinucaElena.com (on Google+)
I create expert roundups that provide quality content, bring huge traffic, get more leads and help bloggers connect with influencers.
I use Google+ to connect with other bloggers and influencers and to drive traffic to my blog posts. My case is a bit unusual because I create expert roundups in different niches so my targeted audience is not the same for all my posts.
When I do the research to identify the experts that I'm going to invite in my roundups I often share a post of those bloggers.
Whenever I share someone's post on g+, I tag them and Google sends them a notification on their email
Click To Tweet
This way, when they receive an email from me, they will not see a total stranger, but a familiar face that shares and + their posts.
I create a new circle where I add all the bloggers from a certain niche and share those posts with that circle.
It's something I couldn't do with twitter because most of my twitter followers are from the blogging niche and they would unfollow me immediately if they would see me sharing posts which are unrelated to their niches like cycling, parenting, gardening or other niches where I have done roundups.
On Google+, I can share those posts only with a certain circle.
When my expert roundups are published, I send an email with the link only to the bloggers featured, but I share the post on google+ with the whole circle, including those bloggers that didn't participate in my roundup.
The best part is that google sends them an email for me. Being from the same niche as my post, they often share and even contact me asking me if I can update the post to include their answers thus giving me a larger roundup and the post more visibility and value.
Thinking right now about all my roundups, I realize in almost every case, I included new contributions after the post was already live. This is how I drive more traffic to my posts through Google+.
Ana Hoffman
TrafficGenerationCafe.com (on Google+)
Ana is the founder of Traffic Generation Cafe. She writes about various ways to increase website traffic like search engine traffic, social media traffic, networking, as well as how to convert that traffic into subscribers and buyers.
In November 2015, Google+ went from being the 'everything-for-everybody site' to focusing on what Google+ has been great at: passions.
The new Google+ is all about connecting around common interests (Collections) rather than people (Circles).
The Collections are both the beauty of the new Google+ and the key to getting targeted website traffic.
Click To Tweet
Sharing interest-specific content (more of a 'wow-I-could-really-use-this!' kind over the 'hmmm-that's-nice' one), building visibility in your niche, and zeroing in on those who raised their hand and said 'Yes, I want to learn more about this!' people.
That's the essence of what social media is all about, and Google+ put itself in the front and center of it with Collections.
If you want to learn more about how to use Google+ check this in-depth tutorial that I've made: How to Use [the New] Google+: Tutorial.
Atish Ranjan
AtishRanjan.com (on Google+)
Atish is specialized in the field of SEO, SEM, SMO and WordPress. He is the co-founder of TechTricksWorld.com.
When we talk about social sites, success depends on engagement. Google+ is one of the most important social sites to generate a good amount of targeted traffic to blogs.
Just one thing you need to keep in mind and that is Engagement. If you can engage more audience on your Google+ account(s), you can easily drag traffic to your blog from there.
To increase engagement on Google+ for more traffic you have to do below-mentioned things:
1. Complete your Google+ Profile
Many of us make a blunder mistake by not filling the details in the profile section. It is very important to completely fill every detail that is asked to enter because until you show up yourself publicly, people won't trust you.
I would prefer to engage with a person who has a complete profile because I can know more about him, and I may trust him. On the other hand, I cannot trust a person that has nothing in his profile except his name.
So the thing is when you complete your profile, you seem to be genuine and other Google+ users of same interest start engaging with you. And, as I said more engagement means more traffic.
What should you do to complete your profile?
Add your original profile pic.
Add a cover pic that represents you or your blogging business.
Insert your blog's link in the link section.
Write a good tagline using the best keywords that define your business.
These are important to fill. However, you might find many stuff out there, just fill them all.
2. Expand your circle
Ever since Google Personalized search rolled out, increasing your Google+ circle became very important to increase your blog traffic. Most of us are logged into our Google accounts and perform a search if we need anything. So, when we search while logged in, we see personalized search which means we see more of the results from our circle.
Suppose, I have shared my blog post on Google+ that includes a keyword "A", and one of the persons who added me to his circle when Google search with query "A," there are more chances that my shared G+ post will appear on Google's first page for him. That results in better traffic to my blog.
So, you should keep expanding your circle on Google+ by adding like-minded and similar industry people.
3. Use Hashtags while sharing your blog posts
I have been guilty of using Hashtags less, but it is indeed a great thing to do as it increases the reach of your Google+ posts.
You can use trending Hashtags in your posts to let them reach to a huge number of people. This may increase engagement on your G+ posts. Thus, more traffic you can drag to your blog.
But, mind it that you don't spam with adding so many hashtags. Use a few only to make your post look professional and not spam.
4. Participate in communities
You should join relevant Google+ Communities and take part in discussions over there.
Click To Tweet
Time to time to support your replies, you can link to some of your articles if needed. This indeed improves well-targeted referral traffic to your blog.
5. Use attractive images as featured images of your blog posts
An image is the first thing that is visible prominently on Google+. If you are sharing your blog posts, you should have attractive images so that they grab audience attention quickly which leads to better CTR of your Google+ posts which ultimately result in more traffic to your blog.
For better images, it is a good idea to design attractive ones for the featured image because when you share a post link on Google+, it fetches the images of that post, just set the featured one and publish.
These are some ideas that do work for me. However, you should keep experimenting new things because there is always room for new things.
Ben Brausen
BenBrausen.com (on Google+)
Ben helps drive social media and influencer marketing strategy for TopRank Marketing clients, from small business, to Fortune 500. He creates marketing that surprises and delights clients and their customers.
With the recent redesign, Google+ puts the focus on two major areas, Collections, and Communities. Both are great places to engage Google+ users and drive targeted traffic.
Collections are great for building a collection of resources and links to a topic of interest.
These collections work much the way Pinterest boards do. By building Collections filled with content, you can create a wonderful resource for others to consume.
Sprinkling in your own topically-relevant links can create great targeted traffic to your site.
Communities are another awesome way to not only drive traffic to your site but also establish yourself as an expert in your field.
Participating in discussions in relevant communities will lead to more people following you on Google+ (which means more people are seeing the content you share).
It also helps establish you as a thought leader.
Communities are a perfect place to share relevant content and engage people on Google+.
Click To Tweet
Make sure to share a mixture not just your own but 3rd party content too.
Those that only share their own are quickly ignored or banned for spamming the communities. An 80/20 rule for curated and owned content sharing is good to stick to.
Be sure to use engaging copy with the links shared and follow up on any comments others make on the content you share, to further discussion and interest.
Engage with the content others share too. Why would you expect others to engage with your content if you never engage with theirs?
Google+ is a great community. While it may be smaller than those of other social networks, people that are active on Google+ are very passionate and engaged on the topics they follow.
Mike Allton
The Social Media Hat (on Google+)
Mike is a content marketing practitioner, blogger and the chief marketing officer at SiteSell. He writes about content marketing, social media and SEO.
Google+, like every social network, is about making connections. Connections with an interested audience, and connections with influencers who can introduce you to their audience and help you to grow yours.
It used to be that innovative use of circles to organize audiences and influencers alike would be the route to success on Google+. But today, that tactic is less effective.
Instead, success on Google+ revolves around Collections and Communities.
Click To Tweet
Through Collections, you self-organize your content and allow your audience to decide what topics and content they think they'll be interested in. If you're able to consistently create great content within industry-specific categorizations, you will have high potential for targeted traffic.
Similarly, there are many communities within Google+ that are devoted to specific topics, and which have highly interested and engaged members. The key is not to just spam links, but to get involved in the community and provide help and answers. You can then leverage your content to provide the kind of information members are looking for.
It doesn't get any more targeted than that.
Russell Lobo
RussLobo.com (on Google+)
Russell is a serial online entrepreneur with 6 years of experience in the field of finance blogging. He also blogs at a Russ Lobo, his personal site where he shares his niche case studies.
Though Google+ with 300 million subscribers is one of the Top social media sites of the world, very few use it as a content promotion tool. When it was launched, since it is a Google site and started with the plus sign on the Google SERPS, a lot of SEO specialists entered into promotion on Google+ but over the years, it has fizzled.
People don't realize that Google+ still has a lot of steam left.
The best way I have found to promote your content on Google+ is via Collections.
Click To Tweet
The advantage of creating a collection as below:
You can invite people to your collection
You can use it as a subscription tool in your email promos or on your site
Every time you add a new post to your collection, every subscriber will get an update which gives a very high level of visibility.
Google+ recommends the best collections to new users to subscribe to when they create an account.
You can have all types of media in your collection including posts, articles, links, and images which makes the content interesting and shareable.
Brent Jones
BrentJonesOnline.com (on Google+)
Brent is a freelancer, blogger, and internet marketer, that helps that helps people start their own online, service-based business.
Two strategies I find highly effective are:
Creating notification circles
Networking in communities
The premise behind a notification circle is simple.
I publish a teaser post for my upcoming content.
Click To Tweet
In the text, I indicate that I will notify anyone who engages with the post when my new content publishes.
I add those individuals to special "notification" circles I create, and then use the "Also send email from you to…" function to notify those individuals when I publish something new.
Another highly effective strategy is to gain influence in a large and engaged community — especially one that leaves notifications turned on for members by default.
If you can gave favor with admins, you may be given permission to share your newest content into that community… and boom! Every member gets a notification when that post goes live.
Sue Anne Dunlevie
SuccessfulBlogging.com (on Google+)
Sue Anne is the founder of Successful Blogging. She is a blogging coach dedicated to helping beginning bloggers succeed online.
I find that Google+ communities are a great way to expand traffic to your blog.
Click To Tweet
Start out by finding communities appropriate for your blogging niche. When you join the community, spend time networking and meeting people and answering their questions first.
Then when you share your blog posts in those communities, make sure to write a compelling summary of your article using bullet points or numbered lists as well as using specific hashtags for your niche. (And it never hurts to add a question to engage your audience. )
There are tons of Google+ Communities, and you are sure to find ones that cater to your blog's niche so that you can start getting more traffic to your blog.
Lilach Bullock
LilachBullock.com (on Google+)
Lilach is a social media expert, consultant, trainer and professional speaker.
Google+ is a great place to drive engagement and traffic back to your site.
I find sharing content in relevant Google+ Communities works really well.
Click To Tweet
It's also useful creating your own community and taking advantage of pinning a post, so it remains prominent.
Leverage hashtags and also ensure you use images as they are very popular there too. Like with any other social network, it's key to engage and not just sell.
Google+ is a great platform if you're creating content as it's much easier to share it there than the likes of Facebook. You can also generate much more engagement without having to pay for it!
Kristi Hines
KristiHines.com (on Google+)
Kristi is a freelance writer and professional blogger who has been covering business and online marketing topics since 2008.
After growing the right audience (an audience interested in what you have to offer), posting unique updates multiple times a day definitely helps.
That allows you to reach as many people as possible if your followers are spread throughout the world.
Click To Tweet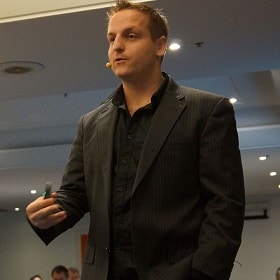 David Krauter
David, first a marketer first and a "techy SEO geek" second… he is the founder of Websites That Sell providing Website & SEO services with a focus on more traffic, leads, phone calls & sales – not just rankings…
Like everything else – making something work takes time.
Don't just go into Google+, start posting content and expect to receive traffic.
Here's what's required to make things work.
Join communities on Google + where you can help out and add value.
Click To Tweet
Have content ready to point people back to as a resource – not a blatant pitch.
Then once you have built trust, rapport and authority in your circles when the right time comes ask people in your circles to check out your content and provide feedback if possible – maybe give it an old plus 1 if they enjoyed the read.
Janice Wald
MostlyBlogging.com (on Google+)
Janice offers bloggers and other content creators practical strategies and proven tips for increasing traffic.
There are several ways to increase traffic coming to your site from Google+.
The most helpful way is to join Google+ Communities.
There are communities for every interest imaginable. Often, there are multiple communities for different interests.
Click "Communities". Go to the search bar, and type in your site's niche.
Communities will come up with the number of members. Most of the communities I've interacted in allow you to leave the link to your article.
The more people in the community, the more likely it is you will find bloggers interested in your article to click your link and follow you to your site.
You can join as many communities as you want, so there is no limit to how many people you can attract from Google+.
Click To Tweet
Joy Hawkins
JoyAnneHawkins.com (on Google+)
Joy has been working in the Local SEO industry since 2006. She is currently working as a Digital Marketing Product Consultant at Imprezzio Marketing.
My strategy has always been to be a participant in communities on Google+ that allow me to share my expertise by helping other users solve problems.
Click To Tweet
When they post about issues that I have the answers to, I try to be as helpful as possible. By doing this, I often get many of them adding me to their circles and then when I post articles from my blog they tend to get way more comments and shares.
I think most people approach this wrong and try and join a community and post their article thinking it will instantly get activity. Usually, in life when you try and take before you give, it doesn't end up well!
Bill Gassett
Max Real Estate Exposure (on Google+)
Bill is a top real estate agent. He has been one of the industry leaders in social media exposure along with a highly visible website found in local online searches.
Without a doubt, Google+ is my favorite social media network. You may be wondering why and the answer is simple. Google+ is one of the best places to build valuable relationships with others in your field.
As one of the top Real Estate agents in Medway Mass, Google+ has been a godsend for not only sharing my real estate expertise but for creating communication channels with people that matter. What many people fail to understand about social media is what it takes to be successful with it.
Whether it is Google+ or any other social network those who just drop links will fail. You cannot be just a broadcaster and expect to get much out of Google+.
So many people will join a social network and think of it as an advertising vehicle. Just look at the social profiles of anybody who does this and you are likely to hear the sound of crickets. There will be very little interaction whatsoever.
The best social media marketers understand that you need to build relationships with others. So how do you go about doing that? First and foremost when joining Google+, you should share other people's content for more often than your own.
There is no question everyone wants their name/content in the spotlight. There is nothing that will get you noticed quicker than promoting others. You should find some of the heavy hitters in your field and share their content. If you do this consistently, they are more than likely going to follow you back.
You should also comment daily on other people's posts as well. Remember you are trying to make yourself more visible. After a while, people will take notice that you are someone who readily engages others.
Another outstanding way of getting some really good traction in Google+ is joining some of the top communities in your field. Communities are traffic magnets and highly focused on your industry. If you really have some drive try creating your own community.
One of the things I took advantage of was creating my own Google+ Real Estate community. It is now one of the largest on the site with over 25,000 members! These are two great ways to get targeted traffic back to your own blog or website.
Over time with a little bit of work invested you can become a Google+ superstar!
Click To Tweet
Will Blunt
BloggerSidekick.com (on Google+)
Will is the Founder of Blogger Sidekick, a business that enables business growth by taking the stress and guesswork out of blogging.
Most people give up on Google+ because it SEEMS like a ghost town.
Perhaps you're posting just as much to your Google+ profile as you are elsewhere, but no one is engaging. Even worse, you haven't attracted any new followers.
Google+ is a ghost town because you are sharing your posts 'publicly'.
If you want more traffic from Google+, forget about being persistent with "Public" posts and instead be super-targeted by picking a select few highly engaged communities to share your content with.
Google+ is an untapped opportunity for anyone that is looking to increase their visibility online.
Click To Tweet
But most people give up on it too early or don't utilize it's full power.
But is it on the way out as a social network? I'll let you be the judge of that.
John Dietrich
GPlusGeek.com (on Google+)
John writes on his blog about Google AdWords, social media management, Google+ for business, search engine optimization (SEO) and social media optimization (SMO).
To get highly targeted traffic on G+, I recommend using tools like SteadyDemand, Circloscope, and Circlecount.
In connection with these tools, I use a circle management technique called Notification Flow.
Click To Tweet
Here's you will find a link to a full breakdown of circle management: Google+ Circle Management Notification Flow
Bottom line, know your audience and be the kind of resource they can't get anywhere else.
David Kutcher
ConfluentForms.com (on Google+)
David is the co-owner of Confluent Forms LLC, a boutique firm providing web design, web development, branding, graphic design and custom software development services.
The answer is the same for Google+ as it is for all social media platforms: build an audience around your content and subject-matter expertise.
Click To Tweet
All of your efforts should be focused on being known for something(s) specific, that way inbound links to your content, connections with you and your content, etc. are all focused on the targets that you established.
Matthew "Kaboomis" Loomis
BuildYourOwnBlog.net (on Google+)
Matthew launched Build Your Own Blog to serve people and online businesses searching for a smooth blog setup that points them in the direction of long-term success.
My strategy for getting targeted traffic from Google+ starts in my Gmail inbox.
My business email (matt@buildyourownblog.net) is integrated with my Gmail account. So whenever someone emails me about blogging or anything related, I look over to the upper right side and quickly circle them in a specific circle that targets my customers, leads, anyone who has emailed me about Build Your Own Blog.net.
Then, I have a targeted audience on G+ that I know is interested in G+ posts about my blogging website.
When I do post, I make sure there is an introduction along with the link/image. I write a headline, usually unique, not a rehash of the blog post title, and then write a teaser intro. That piques curiosity or occasionally has a strong CTA, like if there's a deadline to the post.
I put more thought into posts on G+ than I do Twitter or Facebook.
Click To Tweet
I also use a G+ business page for Build Your Own Blog, separate from my personal profile. I like to make sure each one has a different post on the same day. I don't like to post the same thing on both on the same day.
That's how I get targeted traffic from Google+.
Naveen Kumar
f5TheRefresh.com (on Google+)
Naveen has an Internet Marketing blog where he writes on various topics like SEO, Social Media tricks and strategies.
Google+ is a really excellent way to drive traffic to your website or blog posts. Due to its visual design, it helps to attract more visitor to your website. And those industries, who have great imaginary, can take the advantage of Google+. I am here with some few tips that will help you to generate more traffic on your website or blog post.
Make your post eye catchy
Yes, eye-catching post helps a lot to attract visitors to your site. Do you know when you are adding a post on the Google+, you can format?
Here is a cheat sheet for making your post more eye catchy.
Use Hash Tags (#)
If you have designed a beautiful post but no one sees it, then it is the waste of time and resources. So if you want to increase the post visibility and lifetime, use Hashtags. Keep in mind that hashtag, should be related to your post or industry. You can use Explore feature of Google+ to find trending post and their hashtag in your niche.
Join Relevant Communities
Communities can help you to boost traffic on your website/blog post.
Click To Tweet
You just need to join relevant niche communities and need be active in those communities so whenever you post, people can notice it.
Keep in mind that don't spam in communities, because people love only valuable content, and if you are spamming in communities, no one would like to visit on your link.
Build an Authority
Building an authority is not an overnight job, it takes time. You need to be active, valuable, and loyal to your users. Here are few tips to build authority.
• Be kind to your audience
• Share only useful and relevant content whenever you share.
• Always try to solve queries of your potential audience.
Be on Time
Yes, it is the most important point you need to consider. Before starting marketing on Google+, you need to analyze your audience. You need to find what time you most of the public will be online. Share your post according to this measurement. 9 AM to 11 AM is the best time, and 6 PM to 8 AM is the worst time to post on Google+.
Ryan Biddulph
BloggingFromParadise.com (on Google+)
Ryan is the founder of Blogging From Paradise, where he teaches people how to earn money from blogging, generate more traffic, all that while traveling to exotic places.
Creating inspired, fun content, persistently, and consistently, helps me drive traffic through G Plus. This platform responds well to the persistent blogger.
Enjoy creating blog posts, videos and other forms of content and share them freely on G Plus. Enjoy a steady flow of traffic
Harleena Singh
Aha-Now.com (on Google+)
Harleena is a professional blogger and freelance writer. On her blog, you can find here resources about self-improvement, inspiration, relationship, parenting, children, seniors, health, work & career, blogging, and others aspects of life.
There are many strategies to get targeted traffic to your blog from Google+ like taking the time to stylize your posts, sharing images and not just links, choosing targeted audience to share your posts, adding relevant hashtags to your posts or updates, and much more.
However, my best strategy is to harness the power of Google+ communities, as that is where the interaction lies.
Click To Tweet
Over time, one tends to build relationships with people, who join your community, if you have one, and visit your blog.
David Leonhardt
SEO-Writer (on Google+)
David is the chief SEO (search engine optimizer) and writer. He is also the chief marketing strategist on his blog Seo-Writer.
This one is easier said than done. What I mean by that is that I know what to do, and I can tell you, but I often fail actually to do it.
The best way to get targeted traffic from Google+ is unquestionable to be highly active in several related Google+ Communities.
Click To Tweet
The people there are targeted, and they will see your posts. And if you've engaged with their content, they'll engage with yours. Look for Communities where people do engage.
There can be a huge gap between those where people just post, and those where people comment and plus. My own Google+ activities are much more sporadic than I would like, so I don't reap the benefits that I should.
Ellen Biggs
PrettyHome.org (on Google+)
Ellen is a website owner who uses Google+ extensively to promote her website. She has over 10,000 shares of her website on Google+ which has got her traffic of over 100,000 visits.
Google+ circles promotion is one of the least used and most effective strategies that you can use to promote your blog posts on Google+.
I run a Huge Image content site in the Home niche and sharing my posts on Google+ helps me to get social signals, backlinks, and traffic to my posts.
The way I do it is, search competitors posts using the keywords in my post to Google+. See you have liked those posts and shared it. Contact them and tag them on my posts, If they like or share, it create a circle where I add them and then keep posting similar posts to the circle.
Evgeniy Garkaviy
TemiOdurinde.uk
Evgeniy is an Internet marketing professional who specialises in SEO and Social Media marketing. He is also Hope Spring's volunteer Internet Marketing guru and webmaster.
Google Plus is not a very simple social network. It was promoted by Google team very good at the beginning, I guess in 2012. It was even 2nd most visited social network worldwide. According to the latest statistics, Google+ is only 6th after Facebook, YouTube, Twitter, LinkedIn and Pinterest. 120,000,000 – monthly visitors, compared to 1 billion FB visitors.
But it does not mean that you can't get quality traffic from Google+. You just need to find your audience. Here are some tricks:
Google+ does not have any restrictions like 140 characters in Twitter. Try to make your posts eye-catching. Don't forget to place a link to your blog.

I don't recommend adding short posts. This network is like a mini blog. Some Google experts even introduce innovations made to Google search there. So to make your post more eye-catching add a headline, add bulleted lists, hashtags etc.

Don't forget about images. Each social network says that adding an image to your post usually increase chances to get higher social activity. Animated GIFs also supported by Google+.

Making your posts public does not mean more people see it and you can get good responses. Usually, it is better to select individuals and also send an email to them. It means that your message people can see not only in Google+ but in their Gmail account too.

#Hashtags. Personal for me, I'm not sure they are as useful as Twitter hashtags and even Google team confirms this. But it does not mean that you should avoid using hashtags in Google Plus posts.

Duplicate your posts in related Google Plus groups. If you are promoting some SEO related post then it is very easy to find in G+ some active SEO groups. Just do that and create a nice eye-catching post there too. It can increase your chances to get more visitors.
Brian Lang
Small Business Ideas Blog (on Google+)
Brian is a small business blogger, entrepreneur, and marketer. On his blog, he gives free tips, ideas, and resources for people to start their own business and learn about marketing.
Joining and participating in communities is a good way to get targeted traffic to your blog.
Click To Tweet
Look for communities where other members are engaged and not just the largest groups.
When sharing content, take time to write a good description so that the reader will get value from it even if they don't visit your website. I also wrote about Google+ promotion on the WP Curve blog, How to grab Google+ traffic for your content marketing.
Tom Hunt
VirtualValley.io (on Google+)
Tom is a TEDx Speaker, Dragon's Den Failure And Founder of Virtual Valley: a platform that connects Entrepreneurs and Rockstar Virtual Assistants.
What if you could send an email to any person in the world… without having their email address? And not even just a single email to one specific person, you could send emails to multiple people with a single click?
Again, without their email address, sounds impossible right?
Not with our good old friend Google+.
Yes, when you tag someone in your post, Google+ drops them a quick mail on your behalf.
Click To Tweet
SO, what does this mean for your referral traffic figures from Google? Everything.
I heard Neil Patel on a webinar last night say that you should be linking to 25 people per 1000 words in your blog posts…
These are the people that you will be emailing from G+, which inevitably will lead to more +1's and shares on your posts…BOOSTING your targeted referral traffic significantly.
Erik Emanuelli
ErikEmanuelli.com (on Google+)
Erik is a professional blogger and freelance writer since 2010. He has created and published more than 500 articles on the Web. He is also a traveler that has visited over 30 countries around the world.
Like any other social media network, you need to be active on Google+, if you want to see any concrete results. Post at least once a day (you can schedule your updates via HootSuite).
Use hashtags to identify the content you want to promote and tag people if they are mentioned in your article. Other than promoting your own posts, remember to share also interesting content related to your industry you find online.
Tag the author of the post and any other Google+ user mentioned in the article.
Click To Tweet
Share funny images, from time to time and motivational quotes: people love this kind of content.
Adam Connell
BloggingWizard.com (on Google)
Adam is the founder of Blogging Wizard. He has built numerous successful blogs in various niches, one of which was running with over 30+ writers. He helps entrepreneurs reach more people online.
One of the strategies that's worked well for me in the past is in how I structure the posts I share.
Click To Tweet
This includes:
1) Headline of the blog post I want to promote (in bold)
2) Tailored intro where I tag the author of the post and explain the benefits of reading
3) A call to action such as "Read it here:" followed by a link to the post
4) Tag the people and brands mentioned in the blog post – this is what helps you push your post outside of your existing following
5) Hashtags for added searchability
6) A big image to grab people's attention
True, it's not as straight forward as just sharing the headline of a post and a link, but it's worth spending a bit of extra time on.
Dennis Seymour
LeapFroggr.com (on Google+)
Dennis is an online entrepreneur, author, podcaster, and blogger. He writes about SEO, business, and startups. He is also co-founder of Leap Froggr, a digital marketing company.
Right now, it's not as popular, but I'm sure it will get back some of it's users again eventually.
They will find a way to do so.
Anyway, some niches are definitely better suited for G+ for sure, the Fashion bloggers I work with can attest to that.
In my case, I got my start during the peak times of Google+.
I focused a lot on engagement to grow my following and to grow my traffic from G+.
Click To Tweet
I engaged with those that are already engaging.
A tool like Circloscope can quickly show you those people. Back then, I did that manually. I committed to the network and just went with it. Eventually, influencers will pick up stuff I did and shared it around.
If I had to pick a single strategy, it's to be memorable to influencers. As cliche as that may sound, its not the easiest thing to do. You need to be creative and put in the time. In my case, an accidental thing happened when I first posted images of +Anahoffman 's weekly skinny while I was having my coffee in different locations in the world.

She took notice, we eventually connected and she even shared and linked to my stuff. Here's a post where she mentioned it on her blog! http://www.trafficgenerationcafe.com/influencer-marketing-11-ways-to-be-memorable/
She has a very broad audience in the marketing space and that helped me get traffic as well. So that's certainly a great way to get targeted traffic.
Zac Johnson
ZacJohnson.com (on Blogging.org)
Zac is an entrepreneur and a super affiliate, with nearly 20 years of experience in the online marketing space.
While Google+ was quite the promising social platform at one point, though it now seems like you need to be in the online marketing space or be very loyal to the platform to find decent results. This is simply because it never really caught on with general audiences like Twitter, Pinterest and Facebook has.
Even with that being said, there are still hundreds of millions of users on Google+ that can be taken advantage of.
Click To Tweet
From my own experience, the best way to do this is through growing your own following (with a personal brand or site) and also by posting to relevant groups with a lot of interested members.
A good example of this would be if you created a new infographic for your site. You could seek out other infographic groups on Google+, but also groups that would be relevant to the content within your infographic as well. Many times these groups are open and accepting of content from other sites. When posting, be sure to provide value and not come off as spammy.
Another important thing to remember is that Google+ is very visual. Use high-quality images that grab the interests of your audience.
Ben Fisher
SteadyDemand.com (on Google+)
Ben co-founded and launched several start-ups in various categories ranging from Internet Marketing to Online Communities. He is an experienced veteran in the SEO and Social Media space.
Start with amazing content. Always be engaging, enlightening, educating and evaluating the content you produce.
Format your posts properly. I cannot stress this one enough. You should strive to write posts that are 200 words in length. Make your title Twitter friendly and include a link as well as a hashtag.
Create a collection that will be featured by Google.
When a collection goes hot it will gain followers at a rapid pace.
Click To Tweet
These followers are also your most engaged group of users. They WANT your content.
Tips on creating a HOT Collection on Google+:
Join Google Create
Update your collection with unique content weekly
Have a custom cover image
Create a SEO friendly Title
Create a SEO friendly description
Share your collection
Using these techniques we drive 1000's of clicks per month to ourselves and clients.
Dustin W. Stout
~ Dustin is a social media enthusiast, designer, consultant, and speaker. He is also the co-founder of Warfare Plugins.
My best advice is to just be consistently engaging. If you are in Google+ daily and you understand that the culture is more interested in conversational content than shallow one-liners, you will do well.
Utilize Collections to organize your passions and post to them regularly. (See Ben's tips above.)
Really, it comes down to this:
You get out what you put in on Google+. Period.
Click To Tweet
---
Thank you so much to all the experts that contributed to this expert roundup! Let me know, in the comments below, what is your favorite tip that you are going to apply it next.
If you enjoyed reading this post, help us spread the word by sharing it with all your friends. Let's get google+ back in the spotlight it deserves.